Metrum Acoustics es una compañía holandesa especializada en el diseño y fabricación de DAC's, que tienen como característica común entre ellos, su filosofía NOS – non oversampling-, es decir sin sobremuestreo de datos.
El DAC más alto de gama de Metrum Acoustics es el presentado en esta ocasión, el modelo Hex.
Como característica principal, el modelo Hex doble el número de DAC's de alta velocidad empleados en su modelo anterior. En esta ocasión el Hex monta 16 de estos   DAC-chipsets, 8 por canal.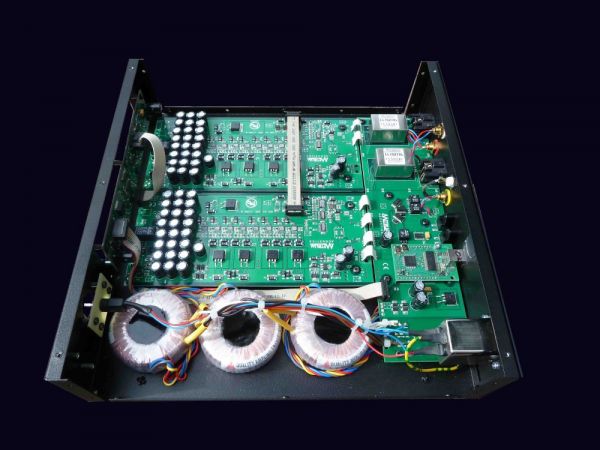 Especificaciones
Working principle: Non oversampling dac.  Dual mono, 8 Dacs pro channel in differential mode.

Power supply: 45 VA  three separate toroid transformers. 18 Voltage regulators

Voltage range: 110 / 115V AC  220 / 230 V AC    60/50Hz

Inputs: 2x optical Toslink, Coaxial  1x BNC and 1x RCA. AES/EBU module optional.  USB module optional.

Outputs: 2x RCA  Neutrik ©  gold connectors. 2x  XLR balanced outputs

Output voltage: RCA : 2 Volt RMS  full scale. XLR:   4 Volt RMS  full scale

Slewing rate: 35 Volt/µS

Jitter: < 35 pico Seconds

Frequency response: 1Hz  –  20 khz  – 2.5 dB    44.1 kHz sampling rate.                                                                     

1Hz  –  65 kHz  – 3dB      192 kHz sampling rate.
Distortion: 0.03 % THD

Noise : -130 dB related to 2 Volt RMS output.

Output impedance: RCA 40 Ohms     XLR 80 Ohms

Sampling frequency: Optical 44 – 96 kHz sampling rate .                                                                                            

Coaxial , USB  and  AES/EBU: 44 – 192 kHz  sampling rate.
Size: 320 x 320 x 85 mm.

Weight: 5500 grams.