En esta ocasión traemos estas cajas acústicas italianas, que no pasan desapercibidas por su diseño, ni tampoco por su indiscutible belleza.
Las Diesis Audio Caput Mundi se fabrican basándose en dos topologías diferentes, configuración de dipolo para las frecuencias bajas y utilización de un motor de compresión concéntrico para medios y agudos.
Presentan una bocina – fabricada en Corian y siendo posible elegir su color entre un amplio muestrario -, capaz de reproducir una emisión uniforme y coherente que abarca frecuencias desde 600 a 25000 Hz.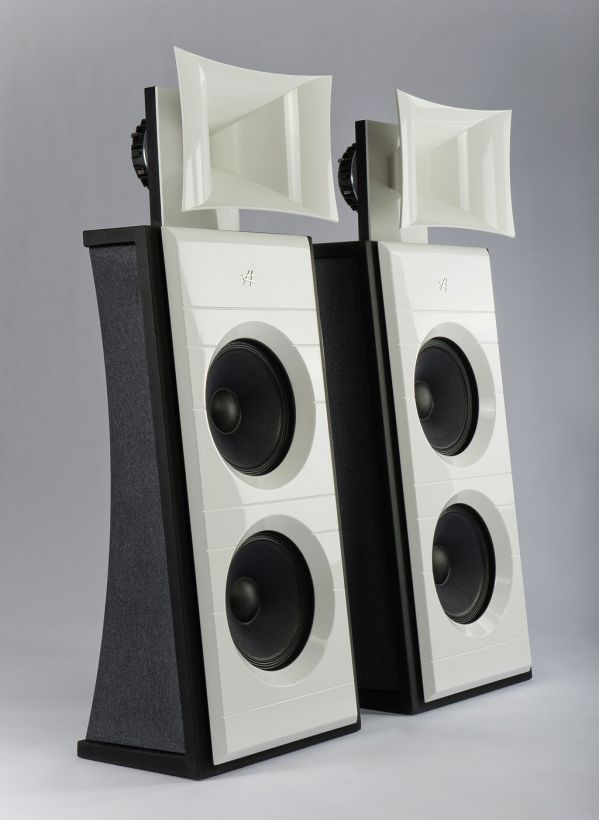 Especificaciones:
3-way and  half system with four speakers.
Loaded dipole speakers.
Wf under, 12 inches, in the paper.
Wf up, 12 inches, in the paper.
Coaxial compression driver consists of:
Midrange from 90 mm.
High range of 45 mm.
Sensitivity 94 dB / 2.83 V / M
Impedance 6 Ohm nominal.
Frequency response in the ambient  40 to 25,000 Hz + / – 3 db
Frequency response in the ambient  30 to 30,000 Hz + / – 8 db
Power minimal 10 watts
Power maximal 250 watts
Crossovers from 150 to 600 and 6500 Hz
MID level control range by heating capabilities: -1.5 db / 0 db / +1.5 db / db +3
HIGH level control range by heating capabilities: -1.5 db / 0 db / +1.5 db / db +3
Ability to drive separately with the separate masses less wf (8 ohms) and the other speakers (8 ohm)
Size 512 mm, D 365 mm, 1370 mm H Weight 97 kg
Caput mundi is recommended for environments from about 20 to 50 mq..
We also recommend no more than 20 degree tilt toward the point of listening.
Supporting structure CLAD58 on specific products (compound material from mineral dust and special resins)
Trumpet Corian (Dupont) and produced on specific.
Proprietary Totalfix securing the speaker.
Filters based on separate cross-over cable on the air with components of high quality and treated with resin dielectric MIL.
Replaceable front panel for editing and trumpet easily the aesthetics of the speaker.
5 year warranty.