Presentamos en esta ocasión la compañía del mismo nombre de su fundador, establecida en Japón en el 2008.
Robert Koda se considera a sí mismo un creador autodidacta, a pesar de haber trabajado bajo las órdenes de Hiroyasu Kondo.
El modelo Takumi K-70 es un conjunto de 3 chasis, de amplificadores monofónicos con fuente de alimentación independiente, con una limitada producción de 20 unidades al año.
Etapa de entrada basada en triodos single-ended, etapa de salida de estado sólido y 70W por canal en pura clase A son las características principales.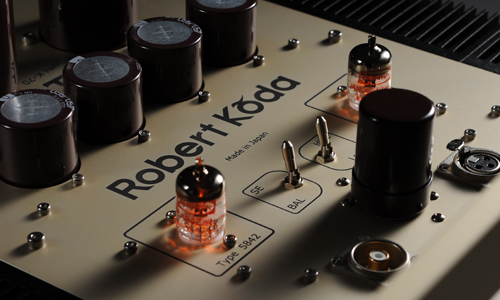 Especificaciones:
DNA: Single Ended Class A1 hybrid power amplifier with separate power supply.
Output power: Greater than 70W. Power delivery maximised for 3 to 7 ohm loads.
Gain: 25.5dB SE in or balanced in, voltage mode. 10V/mA in current mode.
Input impedance: 30K Ohms, Voltage mode, 50 ohms current mode.
Output impedance: Less than 0.07 ohms 20 Hz to 20Khz.
Signal to Noise Ratio: Greater than 115dB A weighted at nominal output. Greater then 97dB A weighted at 1W/8 ohms.
Power response: Less than 5Hz to greater than 200KHz.
Power consumption: 1000 Watts at any volume into any load.
Size: 380mm wide, 256mm high, 550mm deep (each of 3 units)
Weight: Power supply: 40Kg. Mono amps: 20Kg each.
Operating environment: Operating temperature 0 to 35 degrees Celsius. Altitude sea level thru 3000m above sea level. Storage temperature –20 to +50 degrees Celsius.